"Who Receives Glory From My Post?"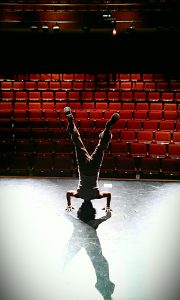 (From the blog series "Before I post to Facebook").
"They have their reward in full" – Jesus.
The Lord draws a clear conclusion to the deeds of self-advertisers. In Matthew 6:1-7, Jesus reviews the various ways His contemporaries draw attention to themselves. They publically "practice righteousness" (v.1), "sound a trumpet" when giving to the poor (v.2), make their benevolence known to others (v.3), pray to "be seen by men" (v.5), and do so using "meaningless repetition" (v.7).
Jesus calls them "hypocrites." They profess to belong to God, yet contradict their profession by stealing God's glory for themselves. This is very easy to do on Facebook. The social media site is designed to place an ordinary, average human life on public display. It is a deceptive popularity. Even Christians buy into it and abandon opportunities for Christ in place of opportunities for self.
Not that there is anything wrong with sharing your life with others (though, it does have its dangers … ). But, what you share gives glory to God or glory to yourself. You checked into the local Karate studio? You can win an RV if I share your link with 20 other people? Your pet trick video generated 8 "likes"? A Facebook test told you that you have a big heart?
Stop. Give glory to God.
Get off the stage. Magnify the Lord and …. receive reward!