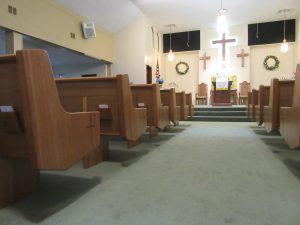 Our doors are open to you! Our worship services are meant to exalt and honor the Lord God. There is a mix of music styles and a time to hear prayer needs from the people. The message from the Bible is the cornerstone of the service. It is meant to encourage and challenge us as disciples of Christ (2 Cor 3:18). You will hear the Word of God at FBW.
Parking is available along Charles Street, 18th Street, and around the park. The main entrance is the wooden double doors; the sanctuary is up the stairs to the left. An electronic lift is available for those in need of assistance to all levels.
We encourage you to dress in whatever makes you most comfortable. If you are a first-time visitor, we want to meet you! Please let us give you a gift, pray for you, and share more information about our church. We love and care for the people who visit us!