The FBW has a rich, long-standing history. The church may have been founded as early as 1812. A brick meeting house, commonly called the "Baptist Meeting House," was erected in the upper part of Wellsburg in 1814-1815. In 1898, Timothy and Bridget Kearnes deeded a plot of ground on 26th St. (for just $1,400!).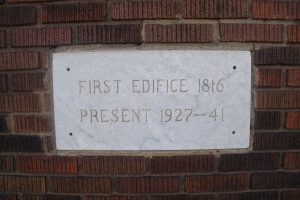 By 1919, it was thought wise to locate the church to a more central location. On January 21, 1920, Charles R. Windsor deeded to the Trustees of the church the lots on which the church and parsonage now stand. The lower level basement and classrooms were completed in 1927; a cornerstone bearing the year stands as an aging sentry. A meeting of the American Baptist Home Mission Society on January 9, 1940 resulted in the approval for construction of the present-day sanctuary.
The First Baptist Church of Wellsburg stands as a monument to the faithfulness of God. The people who came to know Christ, worship, and fellowship here testify to His unrelenting Kingdom building. We are privileged to be a church that is part of God's work and overwhelmed at the gift Christ gives us to use for His glory—His church building!