Remember Our Missionaries
Dear Friends and Family,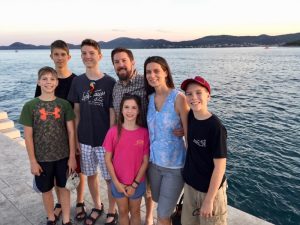 Here in the Czech Republic we are closing in on the end of summer, are preparing for a new season in our church, and are gearing up for a new academic year at the Czech Bible Institute. Here are some updates and ways that you can pray for us.
Church News: As the church continues to grow (praise God!), pray that pastor Radek would have wisdom as he seeks to replace an elder that moved to another ministry, and as he leads the church out of the Baptist Union (as a result of accepting homosexuality).
Evangelism: Over the past two years we have been able to establish good relationships with several unbelievers (Jana, Pavel, Daniel, Standa, and Suzanna). We have been able to share the Gospel with most of them on several occasions, so pray with us that God would be merciful to them by granting repentance and faith.
New Students for CBI: Every year comes with the question, "Will we have students this year?" God has always been faithful to provide students as a result of faithful prayer partners, so please beseech the Lord to give the saints a desire to study His Word.
Teaching: Pray for me as I teach an MDiv course on Theology 2 (Christology, Pneumatology, Angelology) for our sister school (EBTC) at the end of this month. I will also teach through Systematic Theology at CBI this academic year.
Czech Support Need: Some of our Czech men began studying in the MDiv program at EBTC last year. These men cannot afford to fully pay for the program, so CBI must raise $5,000 to cover their outstanding expenses from last year. If you would like to participate in preparing these men, you may designate a gift for them here.
Indigenization: In line with 2 Timothy 2:2, my goal is to work myself out of a job by training Czech nationals to fill my roles. One of our MDiv students (Thomas) has proven himself over the years in regards to his character, love for the church, passion for training, and giftedness in teaching. He will translate for me this coming year in Theology with the goal of slowly being integrated into teaching responsibilities. Pray that the Lord would guide and protect him so that he may be a future leader in the church.
Family: Thank you for praying for the health and spiritual welfare of my family. Praise God, everyone is doing well and we all continue to enjoy life in the Czech Republic. One of the hardest aspects for the children is going back to Czech public school, so pray that they would do well academically, that they would make friends, and that they would be protected from harm. Sharon and I will celebrate our 19th wedding anniversary this week, and are thankful to the Lord for a marriage that truly does get better every year.
As always, we are thankful to the Lord for your participation with us in this ministry. May God richly bless you for your prayers and support!
For the King,
Jonathan and Sharon Moorhead
Nahum, Isaac, Jesse, Jonas, and Miriam