Read (and reread) the Bible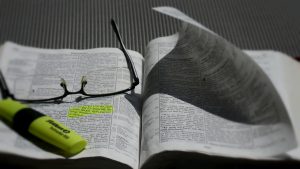 The cycle has begun anew. At FBW, some have begun a new Bible reading plan. They are working their way through the Bible in year. Some Sunday School classes have begun anew a curriculum that takes them through the story of Scripture—again. Inevitably, we reread parts of the Bible we're read before. Indeed, we read and study the very passages we know so well. So … why do believers reread the Bible?
Believers desire the Word.
There are certainly days and seasons where one does not want to. Yet, God tells us that He is "at work" in us; He causes us to "will and to work for His good pleasure" (Phil 2:13). When God gives us His Spirit, our desires change, including a desire to know the God we now love.
Believers forget the Word
We study for exams and we carry to-do lists. Why do we do this? Because we forget. The human animal is a forgetful creature.  We read and reread Scripture because we forget. "Do not forget" is the command of the loving father to his son in Proverbs 3:1—a book jam-packed with wisdom. The wise soul rereads the Bible so as not to forget.
God commands believers to reread the Word.
Actually, this is an understatement. When the Lord God commands His people to hear it and talk about it, He is commanding them to soak it up and perpetually place it before themselves (Deut 6:7-9). Believers are to be inextricably tied to His Words.
Believers need the Word.
Jesus thought so: "Man shall not live on bread alone, but on every word that proceeds out of the mouth of God" (Matt 4:4). The need for God's Word is a regular theme throughout Scripture (Just see how many needs it aims to satisfy by reading Psalm 119 alone!).
Romans 15:4-5 is quite revealing. Verse 4 teaches that "whatever was written in earlier times was written for our instruction, so that through perseverance and the encouragement of the Scriptures we might have hope." Verse 5 goes on to reveal that God "gives perseverance and encouragement." Based on v.4, what is His vessel for delivery? The Scriptures!
Believers hear from God in the Word.
There is no weekly edition, flash drive, or summer blockbuster. God has spoken in His Word and there is no new revelation coming (Revelation 22:18). There is no other way to "hear" from God except through the reading of His Word (Hebrews 2:1-2). A child of God hears from the Father by reading His Word.
It is important to read—yes, even reread—the Bible because God wills it. He has designed the believer's relationship with Him to include the rereading of Scripture. Let me encourage you to regularly set aside time to read portions of Scripture each day. Stick with it and don't give up. You will be able to look back over those days and begin to see the Word doing its work. And may God be honored by your faithfulness to His Word!